Chalong Muay Thai
Chalong Muay Thai :
We are Cha-Long Muay Thai or Suwit Muay Thai . Because Suwit gym is at Chalong area.
Martial arts as well as combat sports have become a real hit among people all over the world. They use them for sports training, leisure and meditation. Muay Thai is a combination of both activities which make this fitness activity even better.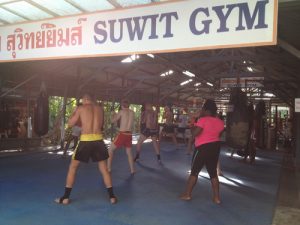 Muay Thai has emerged some 6 centuries ago. This combat skill is based on the kicking, elbowing, punching and attacking opponents with the help of the following eight limbs – elbows, fists, knees and legs.
Chalong Muay Thai package :
The main reason why experts advise Muay Thai enthusiasts to travel to Thailand is the fact that this sport originates from this Southeast Asian country. Of course, Muay Thai became popular 6 centuries ago and it is still the most popular sport in Thailand. You cannot compare training Muay Thai in your local gym with Muay Thai training in a camp in Thailand where all the customs and authentic Muay Thai movements are preserved. So, if you want to do something useful for your health, travel to Thailand and join a reputable Muay Thai training camp as Suwit Muay Thai there.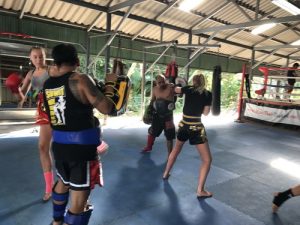 Suwit Muay Thai is a camp that is located in the southern part of Phuket Island. This camp has been serving Muay Thai students from every part of the world for more than two decades. Many women were part of the training classes too and some of them have become regular guests in this camp.
Chalong Muay Thai and basic detail : Suwit Muay Thai is offering special loss weight programs for people who have limited time to do something good for their health. Of course, they also have programs for those who want to become stronger or for those who are prepared to learn how to defend themselves.
Chalong Muay Thai at the good location : The beautiful atmosphere, the professional instructors, the modern equipment and clean premises will help you forget about your everyday life. Once you are done with the challenging Muay Thai training classes you can enjoy on the beach located close to Suwit Muay Thai and explore the island.
Chalong Muay Thai for beginner level : This is a truly useful type of holiday that can help you with your mental and physical health.  
Chalongmuaythai @ Muay Thai training camp news :
Muay Thai Training in Thailand is good for you : With the constant fear of war in the Thai region, the demand for learning a high level of martial arts has become very high. As Muay Thai became popular among the common and poor people, it also became a staple mark for the royal and high-class people.
Muay Thai Camp in Thailand : The best way to circumvent this big fear of yours is by facing it head-on in a controlled scenario. One of the best ways to do this is by finding a Muay Thai training camp. There you will be able to do all the training in the world that you will need in order to become a proficient martial artist and conquer your fears of violence.
The information by www.chalongmuaythai.com 
Recent Posts

Recent Comments

Archives

Categories

Meta