Enjoy sport with your family with holiday night
Enjoy a different night entering the origin of one of the most established traditions of Thailand: the Muay Thai martial art. To take part in this game player must have taken some training . Many people can holiday with Muay Thai.
Show
The Muay Thai Live show has two parts: The first is a stage production directed by the action film director Ekachai Uekrongtham that tells the story and legend of the 300 years of Muay Thai. This representation integrates theatre, acrobatics and combats with music and incredible sound effects.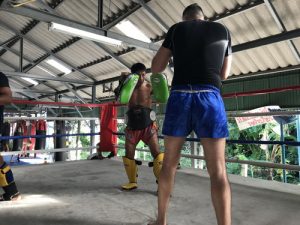 In the second part you will enjoy two real combats between some of the most important Muay Thai fighters in Thailand. Kicks, elbows and knees. This part is not a game anymore!
Origin of Muay Thai
Muay Thai is a Thai contact sport that has become a national symbol of the history and identity of Thailand. His techniques of kicks and blows with the fist, knee, shin and elbow, as well as the way to knock down the opponent, were developed in the past to fight in the short distance to the enemies of the neighbouring kingdoms. Muay Thai was considered an essential art, necessary even for the throne.
Nowadays it is practiced by thousands of people around the world and is considered one of the most spectacular and completes contact sports.
Complete your entry
At the time of making the reservation for your family, you can complete your premium ticket with one of the following modalities: training
• Entrance + cruise: before enjoying the show, you will embark on a cruise on the Choaphraya River from 6:30 p.m. to 7:30 p.m. On camp you will enjoy fruit, drinks and live music.
• Entrance + dinner: you will taste a delicious Thai menu at the Brick Bistro restaurant at 6:30 p.m., before the show. Among the options you will find pad thai, pork soup and cabbage, tom kha gai and tom yum goong.
• Entrance + ferris wheel : you will enjoy incredible views of the area on the Sky ferris wheel, which operates from 4:00 pm to 10:00 pm.