Phuket – training camp
Phuket island :
According to many experts, Thailand is one of the countries that have the most amazing scenery in the world. There aren't many countries in which you can find so many exotic islands. As a matter of fact, most of the images and wallpapers in which we can see a beautiful beach and nature were inspired by the islands in Thailand. Since we don't have time to describe all the islands in Thailand (there are more than one thousand islands in this country!) we will focus on one of them that was labeled as the most attractive island by many travelers – Phuket Island. In the last twenty five years, Phuket has become a real magnet for tourists who want to explore Asia. With millions of visitors per year, some people may think that the island is too crowded, but the truth is that it is very easy to find quite accommodation and beach there.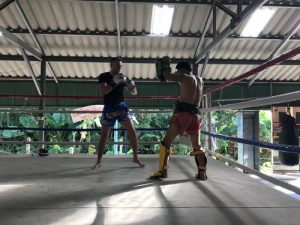 Another interesting thing about Phuket is the opportunity to choose between a wide range of accommodation options. This island is home to some ultra luxurious resorts and hotels and many affordable and decent hostels. What all these accommodation options have in common are pleasant personnel. In fact, Thai people in general are very pleasant and hospitable.
Phuket city : People who are interested in trying something new and exciting can find many different options in Phuker. Snorkeling, scuba diving, swimming, elephant treks, jet skiing, cruising, sailing and fishing are some of the popular activities there. However, if you want to do something that can significantly improve your health, you should try Muay Thai training. This is the national sport in Thailand so it is no surprise why there are so many specialized camps for this purpose in Thailand and in Phuket. Joining a Muay Thai training camp is easy and inexpensive and the results of this type of training are long lasting and impressive. Don't miss this opportunity to improve your physical and mental strength and to improve your overall health. Muay Thai training classes are exciting and they can help you meet new people too.
Muay Thai training camp in Phuket @ Chalongmuaythai is the good location for holiday .
Muay Thai in Phuket is the new activity for everyone to train Muay Thai with family. Don't forget to train at Chalong Muay Thai when you are in Phuket town .
---
Muay Thai camp in Phuket by chalongmuaythai 
Recent Posts

Recent Comments

Archives

Categories

Meta